Article content
Michael Vanhevel is coming home to the Grand Bend area as the star of the musical, The Crooner, at Huron Country Playhouse.
Article content
The show of songs made famous by smooth-voiced male singers over several decades had a successful run in 2022 at the St. Jacobs Schoolhouse Theatre and runs July 5 to 22 at the playhouse near Grand Bend.
Article content
Vanhevel grew up in Grand Bend with parents who loved music from the 1950s and found he had a taste for music from the era.
While he was in high school in Forest, a drama teacher who conducted the Forest Excelsior Band asked Vanhevel to sing with the community group.
He went on to study at Sheridan College and carved out a niche around the Grand Bend area singing the music of Frank Sinatra and others.
Vanhevel is "one of the acclaimed crooners in this country," said Alex Mustakas, artistic director of Drayton Entertainment, which operates the Huron Country Playhouse and several other theatres around Ontario.
Article content
"Years ago, believe it or not, I kind of discovered him on YouTube," Mustakas said.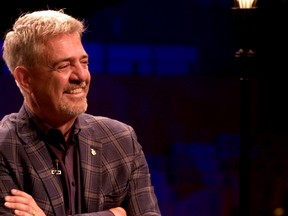 Someone sent Mustakas a link to the video when Vanhevel was 20 and Drayton was casting a show, Big Band Legends.
The show's arrangements and orchestrations were by the late "big band legend" Howard Cable and Mustakas sent him the video.
"Right away, he said, 'hire him,'" Mustakas said. "It was one of those real-life YouTube finds."
Vanhevel went on to perform in concerts with Cable, including a full symphony show that toured Canada.
He also appeared in other productions and concerts with Drayton Entertainment, including Come Fly With Me, The Songs of Sinatra, and Hollywood Sings, and he played Elvis Presley in the show Million Dollar Quartet at theatres across Canada. He has also appeared in several productions with Victoria Playhouse Petrolia and recorded three albums.
Article content
He's backed in The Crooner with a three-piece band.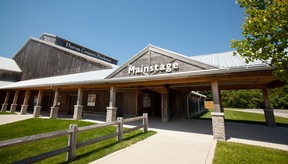 "There are times when you will literally just close your eyes and listen, and you'll think you're listening to Frank Sinatra," Mustakas said. "It's unbelievable."
The show salutes "all the greats," including Dean Martin, Nat King Cole and "even some of the mid-century stalwarts like (Tony) Bennett and Andy Williams," he said.
"It's a salute to all the crooning greats in history. We like to say we include from Bing Crosby to Michael Bublé."
"It's really two hours of some of the greatest hits that were ever written," Mustakas said.
Ticket information and show times for The Crooner can be found at www.huroncountryplayhouse.com.